Back in the big City of Sails after one week in Whaka Village. Or to be more exactly Whakawerawera The Thermal Village. It's part of Rotorua – the smelly town. Anywhere there is a light breeze of sulfur. Sometimes you even see it, sometimes not.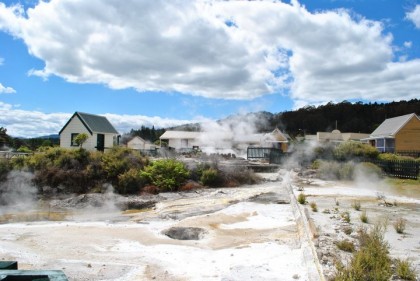 picture: Diana Boeva
We had been four musketeers to achieve and complete works, anybody did before. We had been part of a cooperation between Nomads Hostels and Whaka Village. The so called M.A.D. – Making A Difference. And we really did. One week we went in, out and through the village. We (Craig – Canadian Kiwi, Paula – Dutch, Diana – Bulgarian and me, Isabelle – Germany) learnt a lot about Life and traditions of the Maori. Our timetable had parts of working units and cultural program.
The first day James (Maintenance Chief) and his co-workers took us behind the Presbyterian Church. We had been confronted with a jungle of fern, grasses and tea trees. An old walking trek should be recovered. And all by bare hands – one point to recognize not being in Germany. The Girls and Craig wore Gumboots. I guess the Kiwis love them because I had been always asked if I either don't like to wear some. But I was fine with my own working boots.
To get an imagination of Whaka: The village isn't a museum village. Various generations of Maori are living over there. It's important for them to show the normal and the traditional way of life. We by ourselves had a guided tour first of all. You enter the village passing a small bridge. In the village anywhere there are small wood carved guards and anything seems to be surreal, nearly it seems to be a filmset. Over here a barrier, over there an abandoned house, here the laundry on line and a barking dog in the front garden, there a huge four by four passing with the sound of Hip Hop out of it… and anywhere steam. Building clouds.
Even a clear pool, looking like a mountain's spring has a temperature on surface of 100 degrees Celsius. In depth of 50 meters it's already 200 degrees and it's heating up the deeper you go. In Whaka you also have one of the most active geysers in the country. From the beginning of settlement the Maori used the power of nature. To heat, cook and have a bath.
Whakawerawera is a village which wants to be getting to know. And therefore it had been our duty to recover the savaged treks. A few hours and many cubic meters of wood later, we already had recovered the way to the river. Our minds already played scenes of the future picnic area over there with hot springs are flowing in the river and under the shadow of the tea trees. A really nice picture in mind.
Thursday the 11th of November had been our last real working day. We recovered much more space through the bush. Had the view to two sparkling mud pools and that felt really adventurous. James had been that happy to see the mud pools he had last seen in his childhood. On top we discovered a new mud pool.
The nice thing by working outside in nature is: you see your progressions and you are happy even while getting dirty and maybe even while hurting yourself: you are just happy being outside. Outside in wild nature of Whaka village.
Tags: blog4NZ, Botschafterin, NZ