"Why do you want to go to Belgium?!" – I had been asked this question quite often, when I told I'm going to have holidays. "Belgium?! Why?" over and over again.
Well – why Belgium? Because I've seen "In Bruges". Because I wanted to know if there is more than an enlighted Autobahn. I'm fascinated by countries which have more than one language. I love Triggerfinger. I inhaled the book "Unverkäuflich!" of Bobby Dekeyser. I have never been to Belgium, just to Oostende to take the ferry to Ireland. I wanted to discover this country. Or at least Brussels, Bruges and Antwerp.
It's been the days after Pentecost – nearly end of May – but with refreshing 13 degrees Celsius the days had been quite refreshing. Also forced by heavy showers. But we had also sunny days. And for sure Belgium to me is a country with an always sunny side. You'll find it in hidden Cafés, Restaurants, public and private places and especially on a great roof terrace. May be just like that often – you just have to want to discover it. Let you being taken by an invisible hand. Of course: a few hints are allowed. "Spotted by Locals" as well as "This is Antwerp".
I'll show you my "why". Or at least as I told Ken, my host in Antwerp: "Hello Ken, well the purpose… Getting to know Antwerp. I'm not that interested in the super-touristic viewpoints. I want to get to know the city flair. Some nice Cafés, Bars or hidden places. I'm interested in Design, Architecture and People. Just want to enjoy two relaxed days in Antwerp."
Antwerp had been the last city on this trip. Brussels and Bruges I discovered with my best friend, Tina. Now for Antwerp I was on my own – I love to travel alone. You are just yourself. I chose Ken's place by airbnb. An awesome big loft with a room behind the elevator. A very quick hello and I was on my own.
I entered my room, the hidden place behind the elevator. A parallel universe. And beside my room a door with signs of prohibition. Of course I had to open it…
I loved  the place of Ken.
Like the days before Antwerp also didn't have those End of May temperatures…
But anyway… it was so nice to discover the city by a walk. Or at least a few walks. It was also good that I lost my map at the beginning, therefore I just followed my inner voice and it led me to nice more or less hidden places or at least I just found anything I wanted to. Nice cafés, shops, parks, bars, the waterside…
… and of course – as always and anywhere – I looked for the tiny special things.
The time was much too less in Antwerp and I will be back…
The last evening at K.Zeppos…
the next morning – way to early – I walked to the central station which has on the outside and in the hall an impressive architecture and if you go down to the other platforms it's like diving. A different, quite futuristic world…
byebye, Antwerp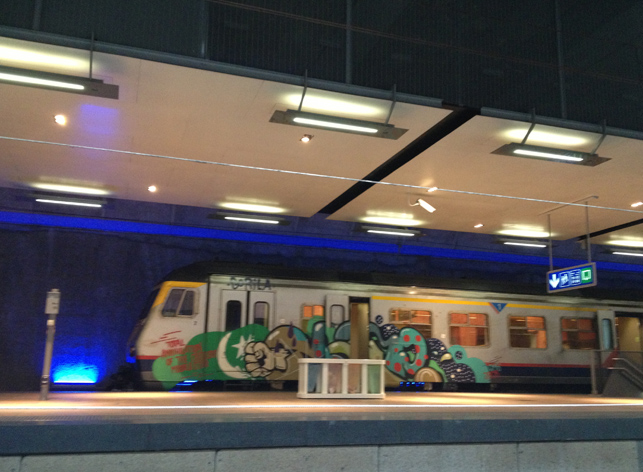 Tags: Ambassador, Aussicht, Belgium, Botschafterin, Grafitti, Postkarte